Home
›
News from the world of Empire
We need new Moderators!
We are always on the lookout for talented people to join the team. That means you! If you think you could help us organise and inform the community while entertaining everyone then apply. We need people to help out on the forum, behind the scenes with announcements, on Discord and on our other Social Media channels.
If this is something you think might be of interest to you, HERE
Update: The King's Portrait, Spring Queen Event
ang1243 (GB1)
GB1
Posts: 3,836
Dear warriors of Empire!
The winter winds have passed and here are our spring patch notes for next update:
  New event: The King's Portrait
King Eric needs your help! His most precious childhood memory, a family portrait, has been lost; pieces are scattered around the Great Empire and he needs your help to get them back!


With this update we will introduce a new, themed version of the Traveling knights event.

Just like in the original Traveling Knights event, you should attack Robber Baron castles in the Great Empire kingdom in order to receive a piece of the King's portrait.

As soon as you collect all pieces of the portrait you will get the new decoration reward: Royal Gallery.
Royal Gallery decoration (205 Public order and 400 Might points)

  Spring Queen event!
We also want to celebrate spring with you, therefore we are presenting our new themed event!

No doubt you remember our St. Patrick event which took place this month. We hope you liked it and are ready for a similar mechanic in the new Spring Queen event.

You need to defeat Spring anarchists' garrison in order to get our brand new look equipment item: "Rabbit's Trinket". It will transform one of your castles, outposts, metropolises or your capital into a spring themed fortress for a period of 14 days.
  Other changes
From now on, you will have the opportunity to reply directly to a group message, making the communication with your alliance members much more straightforward.

The option to change your in-game password will now require you to write your password a second time, to ensure no typing mistakes are present when you change your password.

We are also planning to optimize rewards for activity in our long term point event "Spring Nights Festival". In the next edition of this event you will also be able to win material sacks.
Movie Time!!
Additionally, we prepared a new video for you with the help of some of our artists and game writers! If you are curious about the origins of King Eric and about where the inspiration for all those wonderful decorations came from, take a look at it: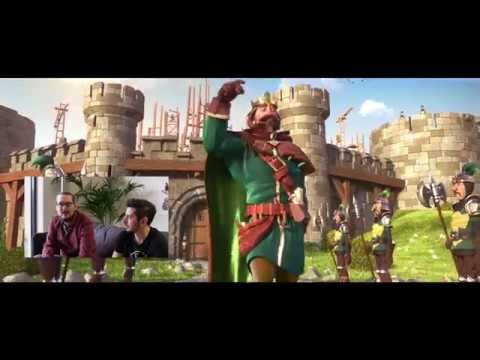 You can ask questions about the update as usual HERE in this thread.

The Downtime will be longer than usual for some servers, if EN is not your usual forum, check your language specific forum to see if your server is affected:
- NL, INT1, GB will be optimised --> 1 hour expected downtime 
40,000 Food will be added to everybody's castles on these servers to avoid desertions during the downtime. 
The update will happen tomorrow (23/03/2017) between the usual times of 10.00-14.00 CET

Best regards,
Your Empire Team
Post edited by BM Neroxnex on