Home
›
English (UK)
›
Alliance News & Diplomacy
We are once again looking for some awesome new moderators to help us out with keeping
the forum running and playing a crucial part in our Empire community! If
this is something you think might be of interest to you,
HERE
MISC or TISC?
Tempus (US1)
Posts: 778
US1
Are we the MISC or the TISC?
The preamble for the ramble started with "we will call you the TISC", but then went onto call us "MISC brahs". This guy's descriptions are unintentionally the best part of the game for me.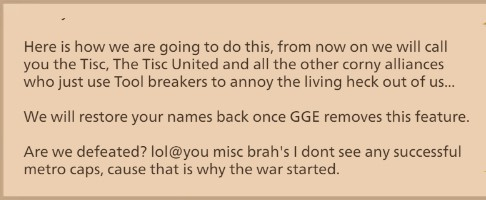 @Serry
pls respawn
Yil is very fake news. #MAGA
This discussion has been closed.