Home
›
EN
›
General Discussions & Questions
Join the official Goodgame Big Farm Discord today!
Are you looking for a community of like-minded farmers to discuss your farming experience with? Look no further than the GoodGame Big Farm Discord Server!
Our server is the perfect place to connect with other farmers from around the world. Whether you're looking to chat about strategy, share tips and tricks, or just make new friends, our community has got you covered.
And that's not all - as a member of our Discord server, you'll also have access to exclusive giveaways and other special events. It's the perfect way to stay up to date on all the latest news and updates from GoodGame Studios.
So what are you waiting for? Join the GoodGame Big Farm Discord Server today and start connecting with fellow farmers from all over the world. Just click here to join the fun!
New Notification Box Question
Katonic (AU1)
AU1
Posts: 13
Why won't the area in the new Notification Box won't be permanent when I uncheck the Boxes for "Show Notifications" and "Show Fishing Report" and then log out of my farm to then log back in?  It was permanent when I unchecked the "the New Building System".  I have logged back into my farm several time and that "New Building System" remains unchecked, but the other boxes that I unchecked get "rechecked" again when I log back into my farm.  If it works for one then why not the others? By the way, I am using Avast Brower, but it also happens when I use Vivaldi Browser. I really, really dislike those fishing notifications about how much fish I lost (especially since at the point of harvest I can do nothing about it).  I would rather just harvest and not be concerned about the losses.
1, When I first log on to my farm.  I then uncheck the Notification boxes.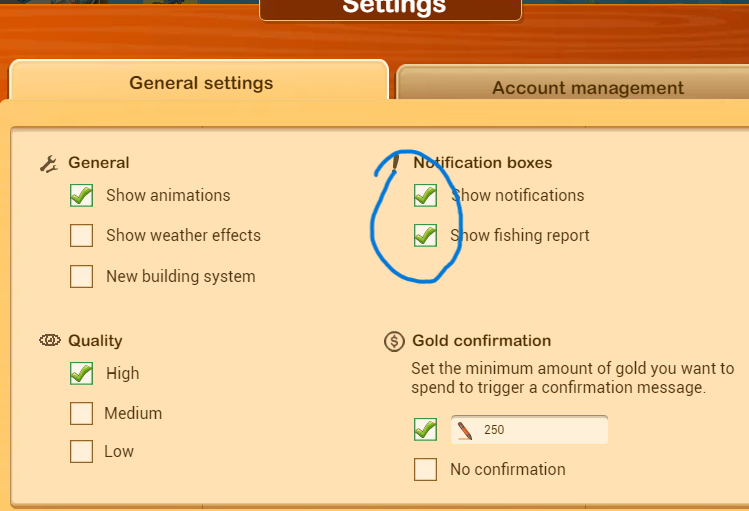 2, My Unchecked "nofication boxes: Then I log off and see (#3 when I log back in)
3. These Notification Boxes are rechecked.
.  
Leave a Comment