Home
›
Official Announcements
Update Oct 1st - Dream World, New ML Season & Autumn Horse season await you & more!

WascallyWabbit (FormerMod)
Posts: 6,097


Hello Farmers,
It's already late and you should go to bed! When I sleep, I always dream amazing things. Sometimes I dream of a place where everything seems possible.
My Dream World allows me to build my farm the way I want and without restrictions. This is only possible in a dream...
Have you ever wondered what it would be like to build a farm from scratch, with much shorter construction times, unlimited building upgrades, and multiple production buildings (such as 4 windmills)? Well, now is your chance to find out! Join my Dream World, a new temporary farm event, where you can build the farm of your dreams with a special Dream World currency, production boosters, premium offers and themed buildings. Collect as much XP as possible to be the best among the dreamers!
The Dream World starts TODAY!
So put on your pyjamas or pajamas and be enchanted by the Dream World.
Tessa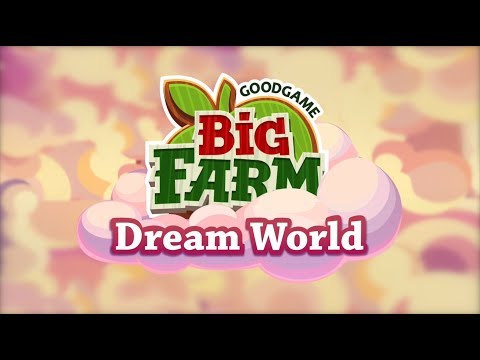 A new Masters League season
Even the most beautiful summer comes to an end. For us that means a new Masters League Season in the Cooperative Championship starts & the new Autumn Monument will be available for you.
7 Years of Big Farm!
Big Farm has already been around for seven years. Let's celebrate this together! Every one of you gets this awesome new flag.
We are looking forward to many more years to come!
Offer of the Month
Halloween is coming soon, so dig out your costumes and prepare for a spooky night!!
You can also get your farm in the right mood with this "frightful" new deco:
Dead Tree
New Horse Season - Autumn
When the weather changes and the trees lose their leaves, Autumn is here again! Why don't we celebrate the change of seasons with a new horse season, too? Get some hot chocolate and enjoy it when the trees become colorful. Even the animals prepare for fall. Who would not want to sleep through winter?
King of Autumn
Bugfixes
Bakery - Start All Button - Negative values displayed if missing ingredients were bought
Coop Village - Action Panel - Tetris mode is not grayed out
Coop Village - Lumbermill / Brickyard / Bank - Tooltips misplaced after upgrade
Fishing - Deepsea - Boat tooltips misplaced
Send Oleg/Go Fishing - Tooltip - Base amount displayed when Amphibian farm machine is active
Coop Tournament - Finisher: Ranking - Go to my coop button doesn't work
Coop Point Event - Finisher: Ranking - Scrolling doesn´t work
Library Books - wrong levels showing  for "next upgrade" on level 6 handbooks
Coop Village - Upgrading - Buildings are stuck when upgrade is done
Horse Season - Dressage + Racing - Icons and texts show other way around.


The remaining servers that have not yet had the "Event end" fix, will be getting it deployed with this update, that includes EN1 
(The others are: DE, FR, CZ, PL, TR, ES, RU, IT).
As mentioned in yesterday's Mod Bulletin, the CC countdown timer may not be showing the correct time. The CC is currently scheduled to start at 11:00am CEST (not 11:30am), however, that could change if any issues arise with the update, as that will be run first.
You can discuss Dream World on:
Tessa's Dream World - Discussion
And the rest of this update
HERE
Happy farming!
Your BF Team