Home
›
Contests & Awards
Join the official Goodgame Big Farm Discord today!
Are you looking for a community of like-minded farmers to discuss your farming experience with? Look no further than the GoodGame Big Farm Discord Server!
Our server is the perfect place to connect with other farmers from around the world. Whether you're looking to chat about strategy, share tips and tricks, or just make new friends, our community has got you covered.
And that's not all - as a member of our Discord server, you'll also have access to exclusive giveaways and other special events. It's the perfect way to stay up to date on all the latest news and updates from GoodGame Studios.
So what are you waiting for? Join the GoodGame Big Farm Discord Server today and start connecting with fellow farmers from all over the world. Just click here to join the fun!
Forum Contest - St. Patrick's Day "Hero or Zero"?

WascallyWabbit (FormerMod)
Posts: 6,097
Just like you, our BF friends have been chasing cheeky leprechauns around the farm.
They have managed to catch several of them & trick them into giving up their treasure,
but not all of our characters were lucky enough to get some gold!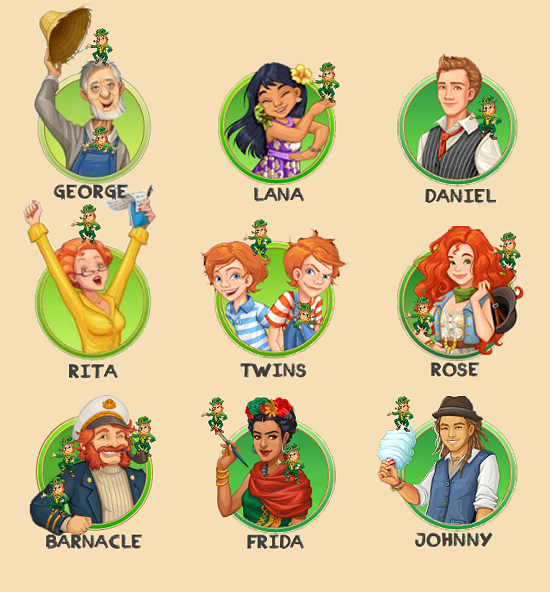 8 of the characters got 400 gold each - The Heroes 
One unlucky character got 0 gold - The Zero   
Can you name the 8 heroes before you name the zero?
Its as simple as that, just post a list of their names, in whatever order you choose,
naming the one that you think is the zero last.
You will score 400 for each hero that you name before you name the zero &
the 5 winners will be the highest scorers & will win their score in gold!
So you could win up to 3200 gold, depending how well you do.
Contest will close at 10am CET on Monday 20th
Post your entry on this thread
One entry per person
Any entry edited after the closing time will be disqualified
Good luck all, have fun!
This discussion has been closed.