Home
›
Discussion Corner for the official announcements
New Mod Flies into Town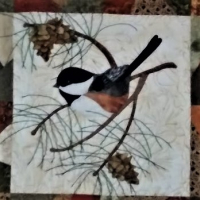 ChickadeeQuilter
Moderator, ModGreen
Posts: 95
Moderator ›
Hi, I am ChickadeeQuilter, your new Moderator.  I will do my best to help you in various aspects of farming and if I don't know the answer, I know of other Mods who will help you.  
About me: I am a bird watcher (so is my cat, but for different reasons 
) and I enjoy the fabric arts.  Many of my quilts and quilted wall-hangings have won awards in local/regional Quilt Shows.  I expect that there are a lot of farmers here who are also quilters and share my appreciation.  I also enjoy working in my yard nurturing roses and various flowers and shrubs. That's it for now!
Signing off (singing: "chick-a-dee-dee, chick-a-dee-dee")
Post edited by BugsBunny on