Home
›
Official Announcements
Update Mar 31st - A Horseshoe for you!

WascallyWabbit (FormerMod)
Posts: 6,097
Hello Big Farmers
Take a look outside your window, what do you see? That's right, spring is here and as all the flowers are coming back out to deck the world in colors, we are giving the horse area a fresh coat of paint in this update.

Horse Ranch
From now on, your horses will lead a whole new life of glory. We are introducing the brand new Horse Ranch and make it possible for you to really go all out on your four-legged friends. You can look forward to a bunch of new features and opportunities to make your horses shine.
Here is a short summary of what is awaiting you:
Existing horse values like Level, Attributes and Breeding Effects will get new meanings, which will have an impact on the Challenge in the Horse Tournament. For example, the horses with the higher level are likely to get a head-start in the race comparing to the lower level horses. If your horse has a higher level, you have a better chance to win against your competitors!
New production cycles will be introduced. Now, you can produce new items that you can equip your horse with for the Tournament Challenge. On the Horse Ranch, there will be different kinds of trees that grow ingredients such as Leather mushroom, Leather cork, Kapok fruit and more. These can then be used in Saddler's workshop to create items like saddles, riding boots, caps and so on.
There will be more horses for you to raise as we are expanding the Horse Shop
We've saved the best for last: The Horse Tournament is getting a fresh coat of paint! You will be able to send your trained horses into exciting races against other players and be able to earn great rewards.
When your horses are not riding with you actively, you can also set an inactive horse that will race other players for you which also grants you rewards.
All in all, there is a lot to discover and to gain from the new and improved Horse Ranch.
Here are some images & of what you can expect to see in the new horse event.
New Equipment Items
Workshop
Tannery
Spinning Mill
Dyeworks
Trees
Jumping Challenge Obstacles
Dressage Challenge Obstacles
Racing Challenge Obstactles
New Horse Currency
Various challenge & preparation dialogues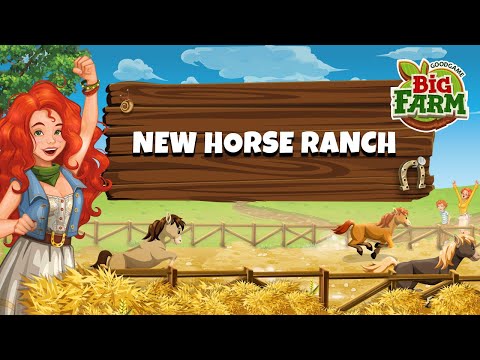 Offer of the Month - Bee balloon
This balloon is not only un-BEE-lievably cute, but also perfect to advertise your local apiaries. This deal will be appearing in the decoration tab in the build menu from April!
Bugfixes
Listed below are some of the main bugs that have been fixed in this update:
Bakery - Shipping - ErrorCode pops up when shipping products after collecting a production.

Favorite Offers - the offers are not available for all players. 

Omar's Big Farm Deals - the tooltip for the event building on the parking area is missing. 

Co-op - the tooltip for the online/offline status of the members is missing.

Offer Dialog Reduction - the dialog for the Prime Sale Offer pops up while playing. 

Ring Menu - the wrong info on a button is displayed.

Island Farm - Quests - a wrong quest text is displayed for the Mango orchards.

Short/Long-Term Events - Choosable Reward - the wrong choosable reward is displayed and players are unable to collect it due to an ErrorCode. 

Short/Long-Term Events - Activity Rewards - the amount of rewards is multiplied when earning two or more at the same time. 

DW - Groument Farm WoF - ErrorCode pops up when buying tokens. 

DW - Library Books - books are sorted in the wrong order.

DW - Weekly Rankings -  the empty ranking is displayed when opening it for the first time. 

DW - Gourmet Farm Quests - Some header texts and descriptions in the quest dialog are missing.


The new horse season will be run for 1 week on INT1 ONLY
from about 8:30am CEST on March 31st 
& then on all servers after that test is complete.
You can discuss this update
HERE
Happy farming!
Your Big Farm team
Post edited by TiminuTufu (FormerMod) on