Home
›
Official Announcements
Update Dec 20th - Into the Valley, Something Less Snappy & Some Treats!

WascallyWabbit (FormerMod)
Posts: 6,097


Seasons Greeting Big Farmers!
Acrobatic Kites again
Most players who owned kites, already received their new ones after our last update, but the few who are still missing theirs, will get them after this update, including a little something to make up for the inconvenience (+1% RP boost on the kite).
Those who do not yet have their kite, but bought a new one in the meantime, will get back their WWC coins back for that purchase. 
We will give those kite owners who had 2 or more kites, nice deco packages to cover the Happiness and Village Happiness they lost with the removal, in addition to the replaced deco parts spent on Kite upgrades, (which were already given to those who received their new kite with the last update).
Users with 2 or 3 acrobatic kites = 1 animal balloon

Users with 4 or 5 acrobatic kites = 2 animal balloons

Users with 6 or 7 acrobatic kites = 3 animal balloons

Users with 8 or 9 acrobatic kites = 4 animal balloons

Users with 10 or more acrobatic kites = 5 animal balloons (full set)
Fishing Mini-game Adjustment for Goldfish
A while ago, the fishing mini-game difficulty increased. The initial difficulty was in fact caused by a bug, which we fixed recently and this caused the difficulty to spike. Previously, every fish had the same strength, and this made it quite easy to catch any fish at any given time with the basic equipment. It is reasonable to have different difficulty levels for the various types of fish in the game, and so this was activated as it should have been originally. But, though this was the initial intent within the feature, many of you reported how difficult it actually is to fish (particularly for goldfish) manually, we decreased this effect massively so that even players with less advanced equipment can now join in with this event more easily.
Decoration Valley - Why not show off what you got?
The new drops you earn from playing on your farms, 
which will help you unlock expansions in Decoration Valley
With this update we will add a new area for your decorations to the game, so you can display your beloved, but so far unused, decos there. This will be a completely new area available on the worldmap, which can be unlocked with farm dollars and expansions are purchasable for "drops" which you naturally gain from playing the game or with gold. This area will also be visible for other players so you can share your love for your decos with others as well. It's a whole new area of the farm, and along with the recent upgrade to your deco storage should give you a lot more options. 
Check out our short trailer for a few details on how the this new, exciting area will work!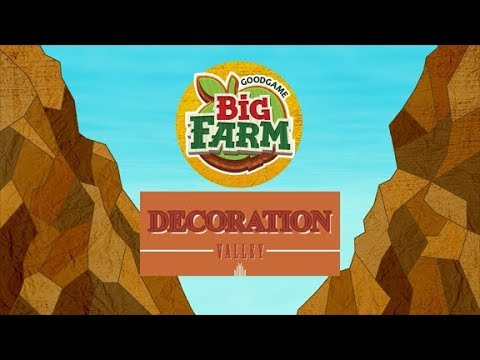 New seeds in town!
We have new Premium seeds for your Gourmet & Flower farms! - Jump right in and discover the beauty of these new plants.
Waterlillies                                                                                         Prickly Pears             
Orchids                                                                                       Angels Trumpets
"Naughty or Nice" News - Christmas is a time for giving!
Since October, we have teased the Combined Trader in which we wanted to offer treats from the deactivated Naughty or Nice event again for Karma Points and gold. Since other topics emerged with a higher urgency we have been unable to complete the feature when we originally expected to and it will be delayed until next year (more news on upcoming highlights soon). We know how important these items are for you and we still wanted to stick to our promise to bring the treats back in December; we will therefore activate the Naughty or Nice event again, but with the tricks removed. So you'll be able to exchange your Karma Points for treats and give your friends a nice gift for Christmas!
Rework of Santa's Workshop
With the run of Santa's Workshop starting after the update, we will introduce some new event behaviours, along with an updated set of decorations as potential rewards. With the next run Farm Machine Fees (certificates etc.) and Fishing boats (within the storage) are spendable in the event as well.
[US & BR only] Missing CC rewards - Compensation
For the Cooperative Championship that ended on November 27th, some players are missing their CC end rewards, which we will compensate with this update.
And last but not least..

We have an announcement regarding our beloved Racing Farmer. It was a loyal companion for all of us for quite a while now, but we have decide to replace it with our new announcement box! The new box you have all seen is a much simpler platform for us to provide you with information and takes a little less planning and setup to organise and display for you all. Don't worry! We'll still be providing you with teasers and info on what's coming up, it's just the look that has changed a little.
That's it for this update! - Please keep in mind that we're also still working on the fix for the ongoing problems with the subscriptions and we hope to have them fixed as soon as possible.
Enjoy the new content, which can be discussed HERE
Happy Farming & to all of you celebrating the festive season, A very Merry Christmas!
Your Community Team
[Edit: Date Changed]
Post edited by WascallyWabbit (FormerMod) on